Marta Chilindron
Opus II, 1986 (Baltic Birch, 144x84x54 inches)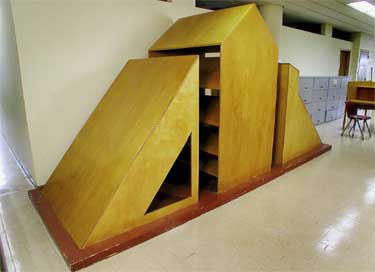 Opus II (1986), by Marta Chilindron
Marta Chilindron studied fine art at the State University of NY. She uses wood, plastic, metals, and other materials to create sculptures that make abstract forms familiar. All of Chilindron's work refers to common objects such as chairs, tables, and shelves. She begins with the flat lines of a drawing and makes them three-dimensional.1 Chilindron has exhibited internationally and her art can be found in many prestigious private and public collections. York College is fortunate to have Chilindron's Opus II on permanent display in our library.2
The word opus is most commonly used in connection with sequential musical compositions. Like a silent musical score, Opus II is a symphony wherein each instrument collaborates to complete one work of art. However, we should not make too much of the title because Chilindron prefers to leave her work untitled. She wants each viewer to "feel free to add" their own meaning to her art. As was the case with some of our most treasured classical music, Opus II was titled, not by the artist, but by the architect in charge of fabricating Chilindron's design in wood.3
Opus II is a three-sectioned Minimalist sculpture. Minimalism is a style of art made popular during the 1960s and 70s that often appears sterile and impersonal. Amongst the library bookshelves, Opus II reveals itself as separate and yet somehow connected. Chilindron's sculpture can be as puzzling as it is entertaining.
Opus II has a thought-provoking presence that invites personal interpretations. One section looks like a window frame that does not offer any view of the inside. The center structure is shaped like a house whose slanted roof is echoed on the inner levels. Inside, what appear to be slanted floors are repeated and add movement to the otherwise motionless structure. On the opposite side is a half paneled triangle with small triangular cutouts in its lower right and left side that echoes the whole sculpture and brings it together. In this final third, Chilindron lets you in to a hiding place. But, in the end, we can see large, distorted depictions of a table, shelves and a chair.
Links to Related Content (links open in a new window)
http://www.ceciliadetorres.com/mc/mc.html - A collection of Marta's work exhibited at the Cecilia de Torres Gallery in New York, a museum dedicated to the work of Torres-Garcia and "specializing in modern and contemporary Latin American Constructivism." The online exhibition includes interactive images of Chilindron's work, as well as a biographical outline of the artist. Cecilia de Torres can be found at 140 Greene Street in the Soho section of New York.
http://www.dotgalerie.com/exh/untitled/ - This online exhibition of Marta Chilindron's work from 1985-2000 was "designed exclusively for dot galerie." Included in the exhibition is Opus II, the sculpture on display in the York College Library. According to its website, the concept of dot galerie is to emphasize "the process of curating exhibitions in tune with the artists' own work development, to enhance cultural exchange beyond national borders, and in the process question the role of the gallery today." dot galerie is physically located in Geneva, Switzerland.
Notes
Personal electronic correspondence with Chilindron, 9 April, 2002.
Opus II was moved sometime after 1987 from outside of the President's Office to the lower level
of the library.
Letter from Chilindron to author (Sabrina Urich), 23 April, 2002.