Other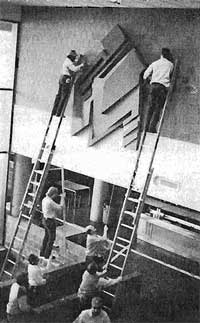 Hanging Frank Stella's Brozozdowce III (1973) in the Academic Core. (Photo by Susan Voll)
The art contained within this section of Unforgotten Masterpieces is among the most intriguing on campus.
Large scale, small scale, mixed media, textiles, pencil drawings, and more, many of the pieces presented here resist simple categories.
Think of this section as containing an array of wonderful surprises.
Take, for example, Brozozdowce III by Frank Stella. This mixed media creation brings wood and fabric together into a geometric configuration on a sizable scale. Is it sculpture, installation art, or something else entirely?
Doris Price's Phoenix can certainly be considered a painting of sorts. After all, it is painted with acrylics. But it is difficult imagine the piece working in the same way on a flat canvas. The sculpted plaster on which the paint is applied provides dimensionality and movement to the piece. To label the work a painting seems almost to devalue it.
And how can one reduce Gloria Ross' woven production of Romare Bearden's Recollection Pond to a textile? The artistic technique involved in this tapestry is staggering.
The works by Ernest Garthwaite are perhaps more straightforward, at least when considered individually. And the textiles are individually identifiable as textiles. And yet it seems appropriate to group all of these "Other" pieces together because they do not fit neatly into the other categories.
In brief, it would be a mistake to conclude from our label "Other" that the works in this section are simply "in addition to" the pieces that appear within the more immediately recognizable categories of artistic media.