Paintings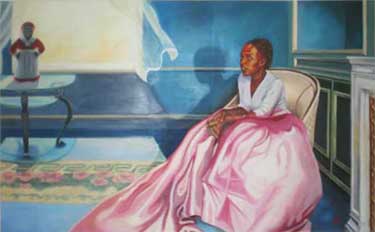 York College professor Nina Buxenbaum's work is on display in the Office of the President
There are dozens of paintings on campus, many by world-renowned artists. While some of these paintings are on display in individuals' offices or in conference rooms, the vast majority of them are readily accessible to the campus visitor.
On the third floor one can find "Farmer's Market," a 1986 oil on canvas by James Brown that York College student Yanizie Cameron has incorporated into the header image for the Unforgotten Masterpieces website. In the library, one can find works by the Nigerian artist Sina Yussuff. And in the lobby of the Performing Arts Center hangs a massive six-panel painting by John Matos (Crash) and Chris Ellis (Daze).
Anyone with an appreciation of painting will enjoy a trip to the Office of the President to see work by York College professor Nina Buxenbaum and by one of York's former artists in residence, Sina Yussuff. And in the Office of Academic Affairs one can locate additional work by Sina Yussuff, as well as art by Ernest Garthwaite, a former member of the faculty at York College.