Sina Yussuff
Various Works
Landscape II, 1993 - Acrylic and oil on canvas, 36 x 60 inches
Sina Yussuff was a distinguished artist in residence at York College during the academic year 1992- 93. Yussuff was born in Ijebu-ode, Ogun State, Nigeria.1 He earned his BFA in 1972 from Ahmadu Bello University in Zaria and continued post graduate work in Art Gallery and museum studies at the University of Manchester, England.
After much struggle, Nigeria gained its independence from Britain in 1960. Yussuff, as a teacher, adminisrator and practicing artist, was an active participant in Nigeria's nation building process. His paintings, murals and sculptures earned him high praise as an important contributor to nigerian visual art.
A well traveled individual, Yussuff took inspiration from the diverse environments he experienced. Pray America and Landscapes II, both hanging in our library are two of several Yussuff paintings to be found on the York College Campus. Landscape II, a sunset falling over York's campus, documents his visit to Jamaica, Queens. Standing before the picture, you can almost feel the suns warmth radiating off the canvas. Enveloped in this vibrant sky, a couple becomes a part of the magnificent skyline. Yussuff placed a color bar, an an art teachers tool, in the bottom left hand corner. It seems to be a reminder that color contrasts bring a painting to life as much as variety and diversity brings our campus to life. Though each painting is unique, Yussuff's use of color makes his work immediately identifiable.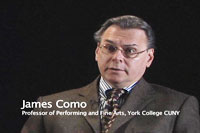 An Interview with James Como
During Yussuff's tenure at York, the College Art Gallery held two exhibitions of his paintings. He was an intelligent teacher who touched many lives through his lectures and his art. Yussuff returned to Nigeria in May of 1993 to continue hid artistic and political work. Sadly, a fatal car accident took his life and caused a major loss to the art world. Humanity on a whole and we here at York college were extremely fortunate to have known Sina Yussuff. To appreciate his art, is to appreciate the man.
In 2008, Reginald Augustin interviewed Professor James Como (shown at right), one of Sina Yussuff's colleagues at York. Professor Como reflects on the circumstances under which Yussuff joined the faculty at York and remembers his artistic style.
Additional Paintings by Sina Yussuff
Landscape, 1993 (currently on display in the President's Office)
Pray America, 1993 (currently on display in the library)
Links to Related Content (links open in a new window)
Motherland Nigeria Arts Page - This website contains numerous links to information about the arts in Nigeria, Yussuff's homeland.
African Painters is a regularly updated blog about artists of African descent. While it contains no posts about Sina Yussuff, it is a rich multimedia resource about African artists.
Notes
Source: A file on Yussuff located in the Department of Performing and Fine Arts.