Sculpture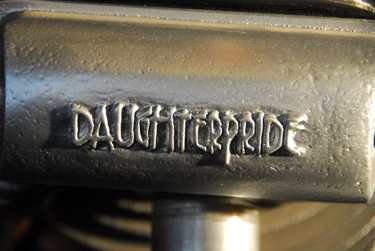 Detail of Copper Airplane, by James L. Johnson
Like much of the art on campus, York's sculpture collection is notable for both the reputations of the artists and the memorable qualities of the sculptures themselves.
James L. Johnson's Copper Airplane (detail at right), perhaps the most immediately identifiable work of art on campus, is truly a one-of-a-kind sculpture. There is nothing else like it.
A work like Copper Airplane rewards close examination precisely because of the care and detail the artist brought to the piece.
Catlett's piece, a bust on display in the library, can almost go unnoticed. But the curious observer who takes a few minutes to research the artist will soon learn that Elizabeth Catlett is a world famous print maker and sculptor. This work is truly a masterpiece that cannot be forgotten.