Elizabeth Catlett
Torso, 1985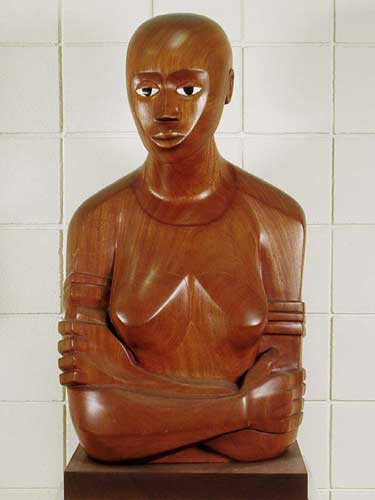 Torso (Mahogany, 35 Inches High), by Elizabeth Catlett
Elizabeth Catlett received her BA in Fine Art from Howard University in 1935. Five years later she received the State University of Iowa's first MFA.1 Catlett studied with the American social realist Grant Wood who encouraged her to portray what she knew best. Catlett also worked with the revolutionary Mexican muralists Diego Rivera and David Siqueiros at Taller de Grafica Popular. Because of her relationship with these artists, the US government labeled Catlett a Communist sympathizer and, hence, an undesirable alien. Subsequently, she gave up her American citizenship and has lived in Mexico since 1946.
Catlett is drawn to the abstract qualities of African and Cubist art.2 Catlett builds forms through positive and negative shapes based on identifiable subjects exaggerated and distorted for emphasis and in celebration of the natural qualities of her materials.3 But, realizing that abstraction means little to "ordinary" people, she made sure her figures did not get lost in her forms.
The 1970s Feminist movement was instrumental to Catlett's focus on women and their lives. Torso is an impression of a hard-working woman with large breasts and powerful arms and hands rendered in hardwood. Catlett used mahogany for its rich color that alludes to the beauty and strength of a brown woman's body. The figure's eyes are hypnotic pools of black and white, the only color added to the work. Full lips punctuate a heart-shaped face that casts a knowing glance. Catlett's 1946 bronze titled Pensive is almost identical to Torso and is a testament to her habit of revisiting subject matter and form in different materials.4 Of the two, York's version looks much more serene.
"Art for me must develop from a necessity within my people. It must answer a question, or wake somebody up, or give a shove in the right direction — our liberation" (Elizabeth Catlett).5
Catlett's work is found in major public and private collections, including the Museum of Modern Art in New York, the National Museum of Prague, the Library of Congress in Washington, D.C, the Schomburg Collection in New York, and the Grant Hill Collection of African-American Art.
Links to Related Content (links open in a new window)
Elizabeth Catlett at Negro Artist - This website dedicated to work by black artists contains sixty-five works by Elizabeth Catlett, including sculptures and paintings.
Elizabeth Catlett at Mojo Portfolio - Biography and works by Elizabeth Catlett.
Three pieces by Elizabeth Catlett at the Museum of Modern Art - The MOMA collection includes three Catlett linoleum cuts: Sharecropper (1952), Malcolm X Speaks for Us (1969), and Harriet (1975).
Two works by Elizabeth Catlett at the Metropolitan Museum of Art - Mother and Child, a 1944 lithograph, and Woman Fixing Her Hair, a 1993 sculpture in mahogany and opals.
Something All Our Own: The Grant Hill Collection of African-American Art - Professional basketball player Grant Hill and his wife, Grammy nominated singer Tamia Washington, have an extensive collection of African-American art. Some of their collection appeared in "Something All Our Own," an exhibition that toured the country in 2003-2006. Elizabeth Catlett's work figures prominently in the exhibition.
For more biographical details see Samella Lewis, The Art of Elizabeth Catlett (California, 1984).
Notes
Melanie Anne Herzog, Elizabeth Catlett, An American in Mexico (Washington, 2000).
Valerie Gladstone,"Strong Enough to Keep On Till She Got Her Due," New York Times, 7 April 2002: AR 33.
A small thumbnail image of Catlett's bronze Pensive appears in Martha Kearns, "Elizabeth Catlett: The Spirit of Form." Sculpture, 18 (2), March 1999. Available online at http://www.sculpture.org/documents/scmag99/march99/catlett/catlett.shtml.
As quoted in Additional Artist Information in the Walter O. Evans Collection of African-American Art. http://www.thebrogan.org/old_site/archives/walter/additional.html accessed 26 April 2008.