Robert Indiana
On the Mountains of the Prairie..., 1971 - Serigraph, 23 x 29 1/2 inches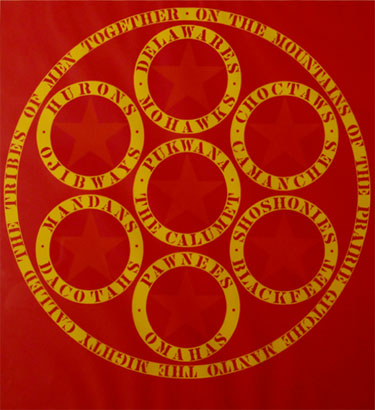 On the Mountains of the Prairie... (1971), by Robert Indiana
Robert Indiana was born in New Castle, Indiana, as Robert Clark. He studied at the Herron School of Art in Indianapolis, Munson-Williams-Proctor Institute in Utica, New York, and the School of the Art Institute of Chicago where he received a degree in 1953 and won a traveling fellowship to Europe.1 After he came back from attending Edinburgh College of Art in Scotland, Indiana moved to New York, where he associated with the Pop Art Movement.
Indiana's works include paintings, prints, and sculptures, particularly based on letters, numbers, and road symbols, which have a significant value for him. Working with bold, contrasting colors, and simple but powerful words, such as "LOVE," "EAT," "HUG," and "DIE," Indiana created his "sculptural poems," a new way of making art. His most famous image is the word LOVE (1965), originally designed as a Christmas card commissioned by The Museum of Modern Art. However, it has appeared in prints, sculptures, tapestries, and postage stamps.3
On the Mountains of the Prairie... is a 23" x 29 1/2" screenprint. The combination of the red background and yellow rings gives the art an abstract view. However, when reading the literary content, it is easy to find the strong meaning of this piece. In this serigraph Indiana is inspired by Henry Wadsworth Longfellow's poem The Peace-Pipe from "The Song of Hiawatha" (1855),4 since he uses some lines of this epic poem. The full text of the biggest ring reads as follows: On the Mountains of the Prairie, Gitche Manito, the Mighty, Called the Tribes of Men Together. The other seven rings contain the names of different American Indian tribes: Delawares, Mohawks, Choctawas, Camanches, Shoshonies, Blackfeet, Pawnees, Omahas, Mandans, Dacotahs, Hurons, Ojibways, and Pukwana. This work suggests the importance that Indiana gives to American history. Using geometric figures and powerful words, Indiana projects a deep vision of native American people.
The Pop Artist also worked with his contemporary friend Andy Warhol in a film called "Eat" (1964). Indiana's work appears in numerous private and public collections, such as The Museum of Fine Arts, the Museum of Modern Arts, the Indianapolis Museum of Art, the Tate Gallery of London, among others.
On the Mountains of the Prairie... is currently in display in the York College library, near the music collection.
Links to Related Content (links open in a new window)
Notes
Biographical data on Robert Indiana can be found in The National Gallery of Art online (NGA.gov)
Lucy R. Lippard, "Pop Art" (Washington, 1990), p. 122
The Museum of Modern Art Online (MoMA.org).
Information about Henry Wadsworth Longfellow's "The Song of Hiawatha" from the Maine Historical Society's Longfellow website (http://www.hwlongfellow.org/poems_poem.php?pid=63).