Patricia M. Smith
Model Child (The Saint)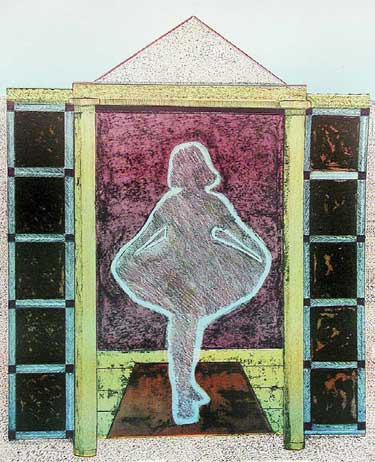 Model Child (The Saint) (1985), Patricia M. Smith
Patricia M. smith is an Irish-American artist and educator.1 She received her BA from Immaculate College and her MFA at the Philadelphia College of Art. She also studied at Yoshida Hanga Academy in Tokyo. Smith was a child model who received her early education in Roman Catholic school. Her autobiographical art works openly reflect those influences.
Beginning in the mid 1980s and continuing in the 1990s, Smith created a series of books and prints she refers to as Model Child or The Saint. She was an Artist in Residence at York College in 1985 when she developed the print now in the Fine Arts Collection. The titles, Models Child or The saint, both play a significant role in the viewing experience. It offers a script that explains how Smith looks back on her childhood and incorporates it into her adult work.
Smith prefers offset printing's "versatility and superb colors" because the color creates a a"somewhat heavenly feeling" giving the figure a "saintly" glow. She wrote that this print is about society's unrealistic expectations of very young girls to fit into the image of woman. the Little girl in model child stands boxed into a grid, ordered framework; frozen in time, a mere silhouette displayed on a platform. Without knowing its title, this piece comes across as a portrayal of the innocence and grace of youthful femininity.
Smith is the former director of the MFA program in Book Arts and Printing at University of the Arts in Philadelphia, and she remains on the faculty. She published The Book of Neglects, described as "humorous in its straightforward presentation of the truth of a busy life."2
Links to Related Content (links open in a new window)
Notes
Biographical data was taken from personal electronic correspondence with artist (29 April, 2002).
Taken from http://www.califiabooks.com/offset/u/university_of_the_arts.html accessed 13 May, 2002.