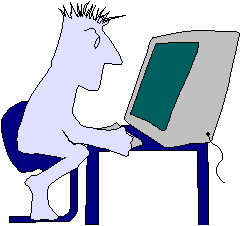 THE INTERNET
News

Internet News - business, e-commerce, developer, international, and product news

Internet - Mecklermedia Corporation

Internet World Daily - BrowserWatch, E-Commerce Guide, InternetNews.com, InternetProductWatch, InternetShopper, InternetWorld, JavaBoutique, etc.

ScamBusters - newsletter on Internet fraud

 V92.com – modem technology (call waiting available online)

Search Engine Watch - was created by Danny Sullivan, an Internet consultant and journalist who continues to maintain the site for internet.com.
Webbys (Emmys, Grammys ...)

Webby Awards - "Forget the Oscars, here comes the Webbies"

Cool Site of the Day - plus top sites by catagory

Top 20 Free Web Sites - rankings are updated once every 15 minutes

Best Free Reference Web Sites 2001 - Third Annual List RUSA Machine-Assisted Reference Section (MARS), ALA

The Charleston Advisor – "Critical Reviews of Web Products for Information Professionals."
Fun Stuff

The Open CD - free and Open Source Software (FOSS)

ICQ - "I seek you", powerful program lets you chat with your friends in real time, and more.

MURL - "My URL". A Web application that stores your bookmarks on the Web!

WebShots - collections of screen saver and wallpapers

Back Flip

Zoomerang - create an online survey

<http://username:password@URL> - use this pattern to enter password-protected websites directly if you know the password.

Speakeasy Broadband Speed Testing

Link Checker - enter the web page to test for bad links

Wayback Machine - Internet archive

To check a webpage's currency, type in [javascript:alert(document.lastModified)] to the address bar in IE

Speed Test

Broadband Tests and Tools

Pintest - Use Pingtest.net to determine the quality of your broadband Internet connection.

Widgipedia
Downloads

Mozilla - download Firefox here

Globalscape - software for downloading

Download Adobe PDF - to read graphs or forms

WebTurbo - free software

Ad-aware - to detect spyware on your computer

iTunes - Apple Computer

Real Audio/Video - live and on-demand audio, video & animation for the Internet

360 - security center
Free Internet Service Provider

All Free ISP

MetConnect

Netzero

Juno

The Simpsons
Free Web Page Posting

Tripod.com

Geocities/Yahoo

Angelfire Communications
Wireless

NetStumbler – Wi Fi Forums

WarDriving – "Driving around looking for wireless networks."

Wireless Security Downloads - LucidLink
Online Security

Secure Computing

Trusted Information Systems

Computer Security Institute

RSA Data Security

Zone Alarm - free firewall

Web Password Hashing – Stanford University
Anti-Virus

Symantec Anti-Virus Research Center

McAfee

US-CERT – United States Computer Emergency Readiness Team

Anti-Virus About.com - Ken Dunham

Anti-Virus Help Page - Doug Muth

Computer Virus Myths and Hoaxes - Rob Rosenberger

Websense - Security Labs

AVG - free antivirus program

Antivirus Ware – independent antivirus articles and reviews
Online Privacy

Privacy Analysis - about your Internet Connection

ProxyMate - helps you generate a false persona and use it for surfing the Web.

Electronic Privacy Information Center - learn to protect your privacy in cyberspace

Everything Email
Domain Public Information

Better-Whois.com - searches all domain registrars

InterNIC - provides the public information regarding Internet domain name registration services

Whois.Net - finds who is behind the site

NameSpace - to find IP addresses

What is My IP?

OpenDNS – Internet navigation
Web Site/Page Design

WebMonkey - includes "The How-to Library"

Basic HTML - UC-Berkeley

Welcome Home - "Ultimate Webmastery Guide" on HTML, Java, CGI ...
IPhone, Fax, Printer

Net2Phone - using your PC to call anywhere in the world (at low cost)

DialPad - free long distance calls with the U.S.

FreePhone - PC-to-Phone (domestic), PC-to-PC (international)

UReach - get your free personal 800 number

BroadPoint - get free long distance credits by listening to short ads.

eFax - faxes will sent to your email box

CloudPrint - remote printing

Vista Print - print solution
Search Techniques

Evaluating Web Resources - Widener University Library

Finding info on the Internet - UC-Berkeley

Cheat Sheet – Google

Web Search Features - Google
Net Radio – Podcasting

Adam Curry's Daily Source Code

Dave Winer's Morning Coffee Notes

One America Committee Podcast

IndieFeed

Insomnia Radio

In Our Time

Voices from the Vault

IT Conversations

Real Audio/Video - live and on-demand audio, video & animation for the Internet
Hoax

HoaxBuster

Symtanec Hoaxes Webpage

CDC Health Related Hoaxes

Computer Virus Hoaxes

Urban Legend Hoaxes

Last modified: 2/16/12
Thank you for visiting!

Back to Di Su's Main Page